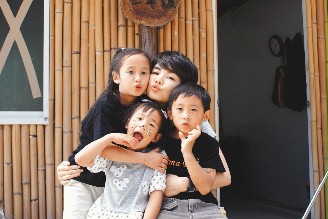 Selina is hosting, Hebe is acting, then what about Ella? Fans suspect that HIM is ignoring Ella, but she is actually pretty good right now. Learning guitar and visiting faraway places with friends. Recently, she went to 司馬庫斯, the children was very touched and said Ella was "上帝的部落" (God-sent?)
S.H.E has always been warm-hearted, having visited India previously to help the children there. This time, Ella drove her precious new car and went with her friends outside of the entertainment circle. 10+ people went to 新竹縣尖石鄉的司馬庫斯部落 bring toys, stationary, clothes, shoes and other items alike and also a nutrisious lunch. Ella said, "Friends have been doing things like this regularly, I'm very happy I can be with them to do such meaningful things."
Ella arrived to 新光國 school. It only had 5 teachers, 8 students, and 2 of the students were in grade 1. They played soccer together with the soccer ball they had brought. The children also gathered around asking questions and requesting Ella to sing, or they could sing "Zhong Guo Wah". Such innocent face, Ella was a very happy "big kid". This is 泰雅族部落, with only 28 resicendences. The senior told her, the children haven't worn new clothes or shoes, so seeing them made the children very happy.
Ella stayed overnight with the residents. "The people here are very warm-hearted and generous. They would help us prepare our meal. Wah! It's really good!" She kept complimenting that it was a beautiful place, not forgetting to visit 一探神木「夫妻樹」. (T/N: Uh, I think the article said that she visited a place where two trees grew together so it was like they were "married trees.") "When I saw the trees, I was really envious. Being married for thousands of years and not leaving each other, really touching,"
Ella said, because the place was uphill, it was hard to get to by car, but the view and generous welcome made everything worth it. She hoped that fans will cherish the places around them when they have time and feel what is "true kindess".
Because the other 2 sisters(T/N: Shouldn't it be wives?) are busy, S.H.E need to gather, possibly for their new album next year, Ella will continue to 關心公益(T/N: Uh, I have no idea how to translate this.)
Source: UDN
*credits to: SHE11x. @
http://asianfanatics.net
[img]