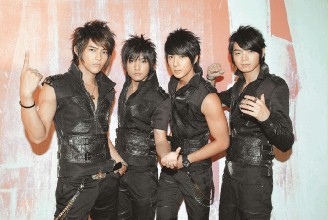 Fahrenheit took part in singing for The X Family OST, but Romantic Princess will not have soundtrack.
Idol drama Romantic Princess recived good ratings, but will not be releasing a sountrack. This ticked off many fans. Fahrenheit and Angela Zhang's record company are putting the songs in their own album.
According to reports, Bai Da and Angela's 福茂 had already agreed about the copyrights of the sountrack. HIM got Fahrenheit and S.H.E to duet "Xin Wo" (New Home - beginning song), the other ending and sub-theme song will be sung by lead female Angela Zhang. Looking at the ratings, fans are strongly requesting for a soundtrack, but 福茂 is confirmed to not release it.
One fan is suspicious, "Is this the first idol drama that have good ratings to not have a sountrack?" Another person has also talked about 白色巨塔, the themesong sung by Jerry Yan, also have not been released by HIM, leading to disagreements over Romantic Princess.
HIM expresses that the themesong will be in Fahrenheit's new album and they are currently recording. The releasing date will be announced at a later time.
Songs:
1. Fahrenheit ft. S.H.E - 新窩
2. Angela Zhang - 不想懂得
3. Angela Zhang - 樂園
Source: UDN
*credits to: SHE11x.@
http://asianfanatics.net