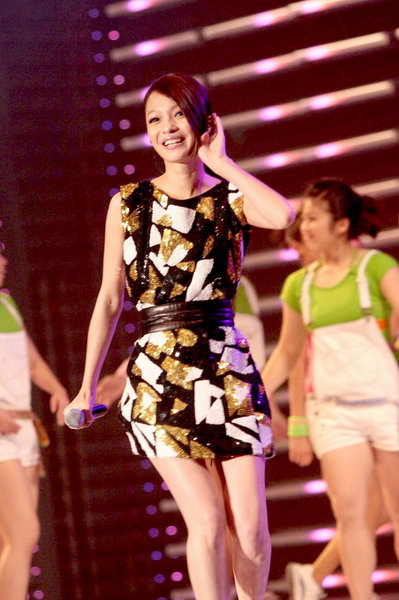 Do Singaporean stars who were missing during the Singapore Hit Awards love money more than they love Singapore? That is what the organizer Y.E.S 93.3FM seem to be suggesting.
Some Best Local Artiste nominees, including Sun Ho and JJ Lin, didn't turn up for the biggest pop music award held here last Saturday.
Without referring to any artiste in particular, Ms Veron Yeo, MediaCorp Radio's assistant vice-president of Chinese programming, said: 'We lost out to money... Patriotism doesn't seem to count.'
The stars and their representatives disagreed.
Sun's publicist Melissa Lam said: 'It is definitely not true that Sun shows no support for Singapore events. She is very patriotic.'
REPRESENTING COUNTRY
Ms Lam pointed out that Sun, who was nominated for Best Local Artiste, had to give the ceremony a miss precisely because she was representing the country overseas.
Sun had been invited to Shanghai by the Ministry of Information, Communications and the Arts (Mica) to sing at a gala dinner for a Singapore arts and culture festival organized by Mica and STB, and to lend her support to the festival.
Yet, Y.E.S 93.3FM program director Ms Foong Wai See blamed the absence of stars, both local and foreign, on commercialism.
Many artistes opted for paid engagements elsewhere over the award ceremony. She was especially 'upset' that 'even Singaporean artistes didn't turn up'.
But JJ's mentor, Mr Billy Koh from Ocean Butterflies, said it's not the money that counts.
He said JJ cannot be expected to back out of a deal that was signed before the award date was set.
JJ missed the awards this year as he had to perform at a major concert in Beijing on the same day, with Jolin Tsai and Emil Chau.
Sony BMG's marketing director Susan Tay agreed. She said: 'Whether you attend or not has nothing to do with patriotism.
'If an overseas engagement has already been booked and signed, and there were no promises made to attend the awards, you can't force it (the matter).'
Sony BMG is local singer Huang Yida's record company. Ms Tay said Yida was not invited to the ceremony even though he was nominated for the Best Local Artiste award.
Mr Koh added: 'Our artistes not going to the Singapore Hit Awards doesn't mean they're not patriotic. That's such a naive and petty way of looking it.
'JJ and A-do were both appointed by the Singapore Tourism Board to promote Singapore, and JJ came back specially for S-pop (a Channel U show promoting local music) without getting a cent because (the production team) was so sincere.
'We also supported Lianhe Zaobao's Z-pop concert.
'But what does it say about the Singapore Hit Awards when fewer and fewer local and foreign artistes are supporting it year after year?
'Isn't it time for the organizers to examine themselves and their own attitude?'
POOR TURNOUT
Only 4,500 people turned up at the Singapore Indoor Stadium on Saturday, less than half the number needed to fill the stadium.
The celebrity turnout - 10 out of 50-plus artistes nominated - was arguably the worst in the 14-year history of Singapore's one and only music award.
Nominated A-listers like Jolin Tsai, Jay Chou, Wang Lee Hom, Mayday and A-mei were conspicuously missing.
Even veteran singer Sky Wu, who was invited as an award presenter, failed to show up as he missed his flight due to bad weather in China.
Those who did attend the show did so to a lackluster welcome.
There was no red carpet rolled out outside the stadium - unlike the star-studded scene at the Global Chinese Music Awards (GCMA) held at the same venue last year.
Instead, the stars made their entrance on stage and chatted briefly with the hosts in a so-called 'Walk Of Fame' that lasted all but 12 minutes.
Ms Foong said they decided to move the segment indoors due to weather considerations and so that 'fans can see (their idols) more clearly'.
Those who did turn up went home with trophies.
Singapore darling Stefanie Sun was the biggest winner with six personal trophies. Two of her hit songs also won awards for its songwriters. Taiwan's Fahrenheit and Angela Chang swept four awards, while Tank had three.
But it would have been a huge dent to the award's credibility if the winners of the 32 categories were confined to the few pop acts who showed up.
True enough, a number of no-shows bagged awards too.
Absent Taiwanese girl band S.H.E ended up being the second biggest winner with six trophies to its name.
The three bubbly girls Selina, Hebe and Ella was tied-up in a gig in China, but made the effort to record thank-you videos for their fans.
Also missing in action but snagging three trophies was Taiwan's Jay Chou, who was busy preparing for the release of his new album.
Hong Kong's Eason Chan nabbed two awards, while homegrown star JJ Lin got one - Best Local Artiste.
The fans who did turn up reserved their voices for Stefanie and Fahrenheit, although S.H.E had its fair share of screams too.
CUTE SPEECH
Project Superstar alumnus Sing Chew Sin Huey, who won Best New Act, gave a cute quote on stage, after explaining that she recently got braces to straighten her teeth.
'My talking is lao hong (Hokkien for leaking air), but I got this award, so I didn't lao kui (embarrass herself).'
Stefanie, who was nursing a sore throat, also drew laughs when she said she told her stylist to pick her 'something beautiful and as sexy as can be'.
It turned out to be a stylish metallic grey bustier gown that flattered her bony frame.
She added: 'My voice is not so beautiful but I still look okay, lah.'
There was one award that raised many eyebrows - Best New Act.
Why? Because it had not one but - gasp! - four winners. That's more than half of the list of seven nominees.
The recipients: Taiwan's Evan Yo and Jasmine Ting, and Singapore's Sing and Milubing.
There were originally supposed to be three winners. Ms Foong said that two of them had a tied score, so the judges gave both of them the award.
But why so many winners for the same category without any distinction?
After all, the same award had three sub-categories - gold, silver ad bronze - from 2000 to 2003.
Instead of giving a straight reply, Ms Foong threw the question back to us, asking: 'Do you think it's better to have gold, silver and bronze?'
Source: Electric
*credits to:
http://www.asianbite.com/default.asp?Display=1193