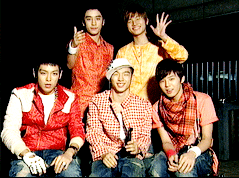 Scores of new talent pour out of the music industry all the time, but there was one group in particular that caught the attention of the public! They had a sound that was their own - STAR FOCUS sits with the very unique members of BIG BANG!
Big Bang's been enjoying the tremendous success of their mini-album, "Always", and its title track, "Lies".
"Lies" took first place on various on and off-line music charts and it's looking like the second half of 2007 is theirs.
This is a group armed with musical creativity. In fact, the multi-talented five members take care of everything from the dance choreography to the composition and lyrics of their songs!
Big Bang released their first single in August, 2006, and the boys came out with their guns blasting!
The musical talent of the members was first noticed when they were younger. All they needed for their debut was practice to fine-tune skills that were already there.
In a little over a year, Big Bang has managed to release five albums and produce countless hit numbers - An incredible feat for ANY singer!
Song after song, the group was praised for their work and people's trust in their music continued to grow.
If they can do their own song-writing and choreography, who's to stop them from starring in their own music videos? That's EXACTLY what they did!
They showed professional discipline in acting and the oldest member, T.O.P, even made his actor's debut in the TV drama, "I'm Your Teacher".
After an exceptional start in Korea, Big Bang began showing an interest in a larger audience - an OVERSEAS audience!
The group performed at concerts in Korea AND Japan as the guest musicians for international pop star, Ciara. Big Bang was beginning to cross boundaries.
Their first steps into the overseas music industry began last year, when they reached out to Japan. Not surprisingly, the reaction to Big Bang was positive and people in the music business also began looking more closely at the young group.
It would be interesting to find out how the members saw themselves in the future!
Big Bang doesn't try to follow the trend in K-pop or "go with the flow." They rely on their music and individuality to carry them to the front of the competition!
They're a group that possibly has what it takes to bookmark a page in K-pop history. We wish Big Bang the best and are excited to watch their progress.
*credits to:
http://www.arirang.co.kr/Tv2/Showbiz_StarFocus.asp?PROG_CODE=TVCR0112&m_view_t=St&sys_lang=Eng