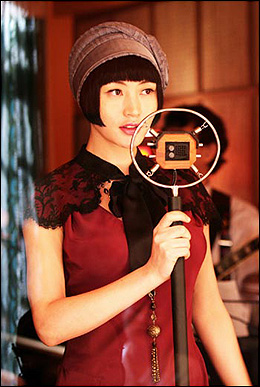 The first still photos of the star actress Kim Hye-soo from a new movie called "Modern Boy" helmed by director Jeong Ji-woo have been released. Kim plays Cho Nan-sil in the movie, a 1930s modern girl who wins the heart of Lee Hae-myung, the titular modern boy played by Park Hae-il.
Last year, Kim dazzled audiences with her provocatively glamorous fashions as the femme fatale in "The War of Flower," a gambling drama. This year she returns to the screen as a period trendsetter.
The stills show Kim wearing the revolutionary fashions of the late 1920s and early 1930s, when the young urban working and middle class -- the mobo/moga or modern boys/girls -- abandoned traditional dress in favor of sharp, spivvy fashions in imitation on the styles of Korean dancer Choi Seung-hee and Hollywood stars Louise Brooks and Colleen Moore.
Kim also recorded four songs in three languages for the new movie, after three months of vocal training before the shoot began. "Modern Boy" will be released at the beginning of next year.
*credits to:
http://english.chosun.com/w21data/html/news/200711/200711020020.html