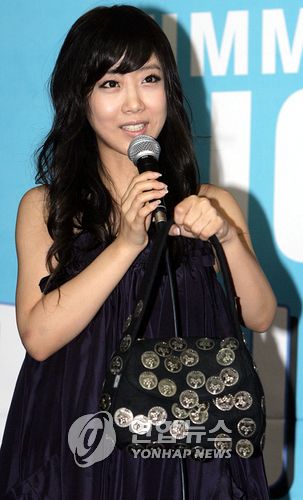 Yangpa is the latest K-pop star to try and make her Hollywood dream come true. Yangpa, who made a successful comeback in the K-pop scene last May after a six-year break, is now laying the groundwork for her debut in the United States.
James Sun, a runner-up during season six of the hit American reality show ``The Apprentice,'' had recently approached Yangpa to discuss the possibility of making her American debut.
In an interview with The Korea Times, Yangpa said she is excited about the possibility of entering the American music market, although plans are still in the initial stages. ``There's nothing specific yet, but I have sent my albums and videos to the U.S. I hope it will go well. … Right now, I'm concentrating on English,'' she said.
Sun, CEO and founder of business networking site zoodango.com, reportedly has influential contacts in the American music industry that could help Yangpa's career.
Yangpa, known for her lovely voice and emotional ballads, admitted she might have to change her style to suit the current trends in the American music scene. ``My popularity in Korea won't help me in the U.S., so I need to start over. I would have to take a totally different concept and image there. … I won't sing the same songs that I sang in Korea. I will have to take the concept and music that is popular in the U.S. and do that,'' she said.
Yangpa admitted it would take a lot of hard work to become successful in the American music market, which is the biggest in the world.
Inevitably, Yangpa faces comparisons with other Korean singers who are also currently trying to make inroads in the American music industry such as Lim Jeong-hee and Rain. She doesn't feel much pressure being compared with them, saying that all have different styles and personalities.
Yangpa has already had some experience in the U.S., when she underwent training for a year to prepare for her fourth album in 2000. ``The American music industry seems to like the exotic image for Asian women. They wanted me to be sexy and exotic. Maybe I can take on that kind of image, if that's what they want from me. When I was training in the U.S., I was practicing R&B and soul music. I think I can have that charm that only Asians have,'' she said.
Yangpa, whose real name is Lee Eun-jin, made her debut in 1997, as a sweet, full-cheeked high school student singing the wildly popular song ``Young Love.'' She studied at the prestigious Berklee College of Music in Boston, and released four hit albums until 2001. She took a six-year hiatus because of a conflict with her previous management agency.
Last May, she returned to the music scene with her fifth album ``Windows of My Soul.''
Despite apprehensions that the long break may have affected her popularity, Yangpa's first single ``Love… What is it?'' topped the charts, proving fans are still loyal to her. She also wrote new songs such as ``Marry Me'' and ``You are Nice.''
The 28-year old Yangpa still looks youthful as ever, despite her protestations that she's ``old'' compared to the perky teenage singers dominating the K-pop scene. ``There are so many young singers now, but I also debuted at a young age. I'm lucky to still be singing after ten years. I think of them as my colleagues, and I don't feel like I'm better than them. I even feel like I'm newer than other artists now,'' she said, with a smile.
Yangpa is currently preparing for her first solo concert since 1998, ``Show, Show, Show'' on Nov. 24-25 at the Ewha Womans University hall. She will be singing 20 songs, both old and new hits, during the concert. Second Moon and Dynamic Duo will also appear as special guests during the concert. Tickets for the concert are 77,000 won, 66,000 won and 55,000 won.
After her concert, Yangpa will start preparing for her sixth album, which could be out by early next year.
When asked where she sees herself 10 years from now, Yangpa said she still hopes to continue singing, write many songs and even a book.
Source: Koreatimes
*credits to:
http://www.asianbite.com/default.asp?Display=1211