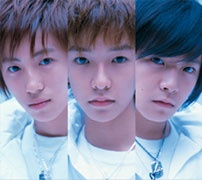 w-inds. (ウィンズ U-inzu?) is a Japanese pop vocal group. They are popular in Japan, and have performed in shows such as the annual Kōhaku Uta Gassen, a Japanese programme inviting only the top-selling artistes of the year. Their first hit was Forever Memories.
HISTORY:
From 2000 November every week on Sunday, they started having street performance at Yoyogi park and Shibuya. Not long after, they debuted on March 2001. 8,000 people were mobilized at Shibuya heaven to watch them live. Their 1st album, "w-inds.~1st message~" came out on the same year and topped the Oricon Chart within the first day of its release.
MEMBERS:
Name: Ryohei Chiba
Role: Rap, background singer, dancer
Birth date: 18 November 1984
Birth place: Hokkaido
Name: Keita Tachibana
Role: Vocalist and dancer
Birth date: 16 December 1985
Birth Place: Fukuoka
Height: 183cm
Name: Ryuichi Ogata
Role: Rap, background singer, dancer
Birth date: 17 December 1985
Birth place: Hokkaido
INFORMATION:
w-inds. has a wide and strong fan base around Asia. They are especially popular in Taiwan and was the only Japanese artiste to be invited to perform on MTV Mandarin Awards in Taiwan in Sep. 2006. They have held concerts in Taiwan twice (2004 and 2005) both receiving great response from fans. In 2004, their concert tickets sold out within 23 minutes and that set a record in Taiwan for the "artiste with the fastest selling tickets", as not even one Taiwanese artiste was able to beat that. Several popular Taiwanese celebrities have attended their concerts as well.
They have been to China to perform in 2002 and has taken part in a China-Japan music festival in 2006. Just this year(2007) in March, they flew to Beijing to participate in another China-Japan music festival along with 2 other Japanese artistes. They have held video conferences in Hong Kong, and on July 2, they are joining the Pop Rock Gala celebrating the 10 anniversary of the establishment of Hong Kong Special Administrative Region, for which they bring forward their rehearsing for the annual summer tour.
They hold summer live tours around Japan every year since 2002.
They were also the only Japanese artists to perform in MKMF, a music awards show in Korea in 2006.
They have won 5 awards in 2006 altogether. 3 in Japan, 1 in Korea, and another in Taiwan.
The main vocalist, Keita Tachibana, debuted with a solo single, Michishirube in 18 October, 2006. Contrary to the rumours, Keita has confirmed that w-inds. is not disbanding despite his solo career.
They are featured in various magazines in Japan and throughout Asia, such as Hong Kong, Taiwan etc. They are also often invited to perform in Popjam, CDTV and Music Fighter. Besides, they always win polls conducted by Junon(Japanese magazine) for their good looks and talents.
All their singles and studio albums up to date, have all made into the top 10 positions in the Oricon Charts.
*credits to:
http://en.wikipedia.org/wiki/W-inds.