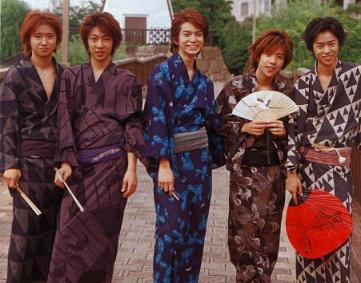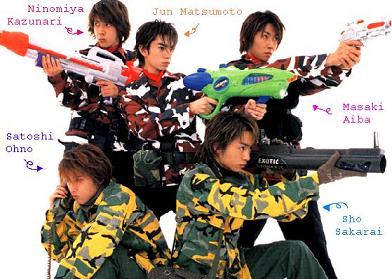 Arashi (嵐 in Japanese text, translates to Storm) is a five-member Japanese boy band under Johnny & Associates. They made their debut in September 15, 1999 in Honolulu, Hawaii. The group was signed to the Pony Canyon record label from 1999 to 2001 before transitioning to Johnny's Associates-powered J Storm record label in 2002, producing their future singles and albums.
MUSIC CAREER:
Arashi covers a wide range of music, including R&B, hip hop and various forms of pop music. Aside from being a popular idol group in Japan, the group is widely known across Asia and to J-pop fans all over the world.
In 1999, on the day of their first single's release, more than 80,000 fans showed up to attend the group's debut event. The single, "A・RA・SHI", went on to become a major hit, selling almost a million copies.
On July 31, 2006, the group embarked on their Jet Storm Tour, which aimed to promote their newest album, Arashic. The one-day tour covered Taiwan, Thailand and South Korea, countries which later became part of their Asia tour (The Thailand concert, Thai-J Pop Concert, was cancelled due to a military coup). The concert in Korea was decided due to the fact that about 1,500 Korean fans gathered at the Incheon International Airport during the group's Jet Storm press conference.[1] The concert, held on November 12, 2006, made Arashi the first group from Johnny's Entertainment to perform an individual concert in South Korea.[2] The group proved popular to Korean fans when concert tickets were sold out in an hour, as some 150,000 people rushed to book tickets online.[3] Aside from their concert performances, the group represented Japan in the 2006 Asia Song Festival, also held in South Korea.[1]
To date, Arashi has released eight albums and nineteen singles. On February 21, 2007, the group released "Love so sweet", the popular theme song for the TV Drama Hana Yori Dango 2 which peaked at the number one spot on Oricon's daily and weekly charts. Their latest single, "We Can Make It!", released on May 2, 2007, also charted number one on Oricon's daily and weekly charts, before falling out of the Top 10 in its second week, only to return back to the Top 10 on its third week. This latest single is Arashi's 8th straight number one release and its 15th number one overall.[4]
Arashi's new album "Time" also debuted at the number one spot on Oricon's charts, selling 191,000 copies in its first week.
The group's next single will feature the song "Happiness", which is used as the theme song for the TBS drama "Yamada Taro Monogatari", starring Ninomiya Kazunari and Sakurai Sho. The single will be released in Japan on September 5, 2007.
On April 2007, the group performed in one of their largest concerts to date. Arashi Around Asia was held in the Kyocera Dome in Osaka, and at the Tokyo Dome, with a combined total capacity of 100,000 people.
MEMBERS:
•Name: 相葉雅紀/ Masaki Aiba
•Born: December 24, 1982
•Nickname: Aiba, Super Idol Aiba-chan, Aiba-chan, Aiba-kun
•Blood type: AB
•Height: 176cm
•Weight: 60 kg
•Horoscope: Capricorn
•Family: Mom, Dad, younger brother (Yusuke)
•Pets: 3 dogs
•Favorite Subjects: none
•Least Favorite Subjects: Physical Education (during winter season)
•Food: ramen
•Color: black and white
•Precious Treasures: everyone around him, his pets, his stuffed animal, and his favorite baby blanket
•Best Friends: Sakurai Sho (ARASHI), You Yokoyama (Kanjani∞)
•Occupation: singer, composer, actor
•Name: 二宮和也 / Ninomiya Kazunari
•Born: June 17, 1983
•Nickname: Nino, Hollywood-san, Kazu-chan, Nino-chan
•Height: 168cm (5'6")
•Weight: 49kg (around 108 lbs)
•Date of Birth: June 17, 1983
•Place of Birth: Edogawa, Tokyo, Japan
•Star Sign: Gemini
•Blood Type: A
•Family: Parents, a sister (two years older)
•Occupation: singer, composer, actor
•Name: 松本潤
•Name (romaji): Matsumoto Jun
•Nickname: MatsuJun, Jun-Sama, JunChan, King (by all of Arashi)
•Height: 173cm roughly 5'8
•Weight: 58kg (approx 128)
•Birthdate: August 30, 1983
•Birthplace: Tokyo, Japan
•Siblings: One older sister
•Horoscope sign: Virgo
•Blood type: A
•Interests: Music, DVDs, photography, reading
•Preferred Sport: Baseball
•Favorite Food: Noodles, dry plums, mango
•Favorite Colors: White, black and blue
•Occupation: singer, composer, actor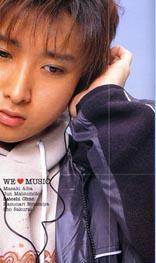 •Name: 大野智/ Satoshi Ono
•Born: November 26, 1980
•Name meaning: Guidance
•Nicknames: Oh-chan, Leader, Captain, Umai-sonyun, Shacho, Sammy (or Sami)
•Height: 166 cm (5'5")
•Weight: 49 kg (108 lbs)
•Siblings: older sister
•Occupation: singer, composer, actor
•Name: 櫻井翔/ Sho Sakurai
•Born: January 25, 1982
•Blood type: A
•Height: 171cm
•Weight: 56 kg
•Horoscope: Aquarius
•Siblings: a younger sister and a younger brother
•Favorite Subjects: Japanese and history
•Favorite Food: Pizza
•Favorite Colors: blue, black, and yellow
•Occupation: singer, composer, actor
*credits to:
http://en.wikipedia.org/wiki/Arashi