WaT is a boyband which consist of two actors: Wentz Eiji and Koike Teppei. The meaning of the group name is Wentz and Teppei.
•Name: Eiji Wentz (ウエンツ瑛士 - "Wentz" is the family name)
•Birthdate: October 8, 1985
•Birthplace: Tokyo, Japan
•Blood Type:O
•Profession: : Actor / Singer
•Height: : 170cm
•Weight: : 55kg
•Star Sign: : Libra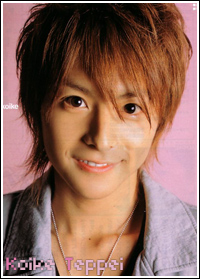 •Name: Koike Teppei (小池徹平)
•Birthdate: 1986.01.05
•Current Age: 21
•Zodiac Sign: Capricorn
•Birthplace: Osaka, Japan
•Blood Type: B
•Height: 167 cm
•Weight: 54 kg
•Group: WaT
HISTORY:
•2002/2 Started activities
•2004/2 Released first indie single Sotsugyou Time
•2004/2/18 Official Fanclub So WaT established
•2005/8 Joined Universal Music
•2005/11/2 Released first official single Boku no Kimochi
•2005/12/31 Performed in 56th Kouhaku Utagassen
•2006/1/25 Released 2nd single 5 Centi.
DISCOGRAPHYALBUM:
•卒業TIME ~僕らのはじまり~ (Sotsugyou TIME ~Bokura no Hajimari~)
SINGLES:
•卒業TIME (Sotsugyou TIME)
•僕のキモチ (Boku no Kimochi)
•5センチ。(5 Centi.)
•Hava Rava
•Ready Go!
•ボクラノLove Story (Bokura no Love Story)
•君に贈る歌 / ラッキーでハッピー (Kimi ni Okuru Uta / Lucky de Happy)
•Awaking Emotion 8/5 / my brand new way
*credits to:
http://wiki.theppn.org/WaT