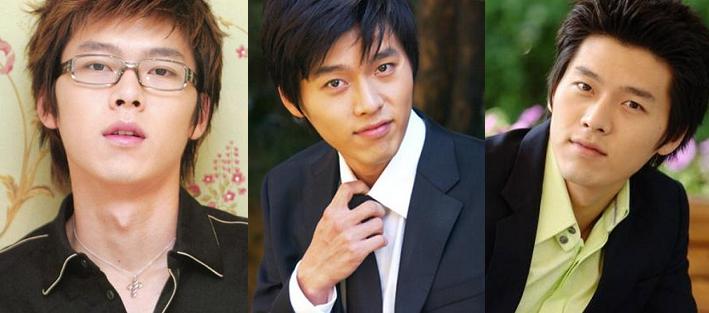 PROFILE:
•Name: 현빈 / Hyun Bin (Hyeon Bin) literally means "Bright Light"
•Chinese Name: 玄彬 (Xuan Bin)
•Real Name: 김태평 / Kim Tae Pyung (Gim Tae Pyeong)
•Profession: Actor and model
•Birthdate: 1982-Sept-25
•Birthplace: Seoul, Korea
•Height: 184cm
•Weight: 74kg
•Star sign: Libra
•Blood type: B
•Family: Parents and an elder brother
•Talent agency: Star M Entertainment (http://www.starment.com/stars/list.asp?b_type=hyun)
•He is studying English language at the moment.
•Hyun Bin has broken up with Hwang Ji Hyun on May 1, 2007.
•He smokes.
•He's officially taken off the market as he admitted dating actress Hwang Ji-Hyeon since the beginning of last year.
TV SHOWS:
•The Snow Queen (KBS2, 2006)
•My Name is Kim Sam-Soon (MBC, 2005)
•Ireland (MBC, 2004)
•Nonstop 4 (MBC, 2003)
•Bodyguard (KBS2, 2003)
MOVIES:
•A Millionaire's First Love (http://www.asiandb.com/browse/movie_detail.pfm?code=5985) (2006)
•Daddy Long Legs (http://www.asiandb.com/browse/movie_detail.pfm?code=5727) (2005)
•Spin Kick (http://www.asiandb.com/browse/movie_detail.pfm?code=5665) (2004)
•Shower (2002)
AWARDS:
•2006 KBS Acting Awards: Popularity Award (The Snow Queen)
•2006 KBS Drama Awards: Netizen Award (The Snow Queen)
•2006 KBS Acting Awards: Best Couple Award with Sung Yu Ri (The Snow Queen)
•2006 42nd Baeksang Awards: (http://www.twitchfilm.net/archives/005510.html) Most Popular Award
•2005 MBC Drama Awards: Top Excellence Award (for My Name is Kim Sam-Soon)
•2005 MBC Drama Awards: Popularity Award (Best Actor for My Name is Kim Sam-Soon)
•2005 MBC Drama Awards: Best Couple Award (with Kim Sun Ah)
•2004 MBC Drama Awards: Popularity Award (Best Newcomer for Ireland)
•2004 MBC Drama Awards: Broadcasting & Entertainment Special Award
TRIVIA:
•Education: Jungang University (acting major)
•Hobbies: Swimming, playing basketball and watching plays
*credits to:
http://wiki.d-addicts.com/Hyun_Bin
*credits to:
http://en.wikipedia.org/wiki/Hyun_Bin
*credits to:
http://popseoul.com/2007/02/23/meet-hyun-bins-girlfriend-hwang-ji-hyeon/