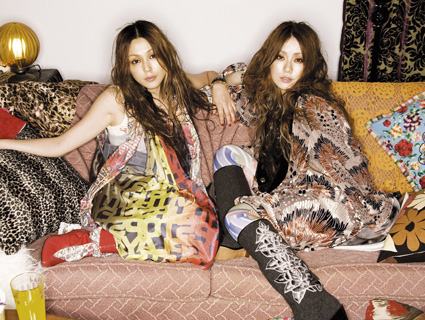 Ami Onuki and Yumi Yoshimura, otherwise known as Japan's sweetheart's Puffy AmiYumi have announced a five-date U.S. tour that will bring their electrifying live show and unique brand of J-Pop back to the states. Puffy AmiYumi will preview tracks from the upcoming honeycreeper LP on this string of dates, which is being called the "honeysweeper tour."
You may have recently seen the girls modeling wide-leg jeans in the Annie Leibovitz-shot Gap campaign also featuring Sarah Silverman, Forest Whitaker and Selma Blair. Or you may know them from the hit Cartoon Network series Hi Hi Puffy AmiYumi, but it was Puffy AmiYumi's music that initially gained the band attention.
After reaching superstardom in Japan, their left-field, anything-goes take on J-Pop attracted the likes of indie icons Jon Spencer of Blues Explosion fame, Dexter Holland of the Offspring and Butch Walker, writer-producer for Avril Lavigne and Pink, who has also collaborated with Puffy AmiYumi for the new honeycreeper LP.
Puffy AmiYumi will no doubt give audiences a sweet taste of what honeycreeper has in store when they preview tracks on tour.
Don't miss Puffy AmiYumi's North American tour!
*credits to:
http://www.nt2099.com/J-ENT/news/japanese-entertainment-news/pr-puffy-amiyumi-announce-five-date-north-american-tour-this-fall/