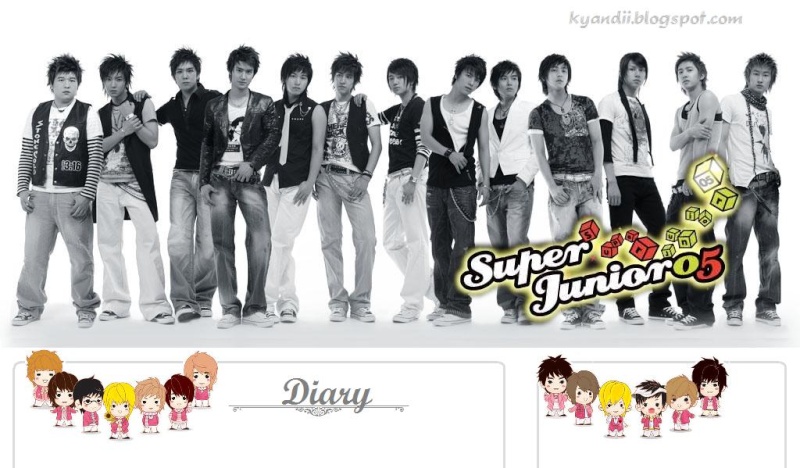 They're the group that seems to be re-writing the history of K-pop.
They're the group that gives outstanding performances and are blessed with a wide variety of talent.
They're the group, Super Junior!
STAR FOCUS sat down with Super Junior for an exclusive. The group recently made a terrific comeback into K-pop with their second full-length album AND a whole new look!
The transformation was drastic enough to make some jaws drop, and their outstanding performances had a lot of people talking - not just in Korea, but across Asia, too!
Super Junior got a lot of help from well-known musicians to ensure the quality of their NEW second album. This album comes out on stands about one YEAR and four months after their last and it represents a meaningful chapter in their career. It was the product of ALL 13 members, including Kyuhyun, who had been out of the loop due to a serious car accident.
When they made their debut in 2005, they were an incredible success!
The boys stood at the door to pan-Asian success almost instantly, and they had the goods to back them up. Each member had a specialty in entertainment - from radio DJ or MC to modelling or acting.
Super Junior was offered the perfect opportunity to show off their talent when all 13 of the members were asked to star in the movie, "Attack on the Peanut Boys."
The first acting job for the whole group, and another step towards a brighter future.
Actually, their group was formed WITH the intention of dazzling fans ALL across Asia!
They were reaching beyond the boundaries of Korea and it was working. Fans overseas were as crazy about them as Korean fans!
They have the intensity and ability to shake things up in the Asian music market.
Talent. Engaging personalities. Dedication. And drive.
We hope Super Junior continues to impress their fans across the continent.
*credits to:
http://www.arirang.co.kr/Tv2/Showbiz_StarFocus.asp?PROG_CODE=TVCR0112&m_view_t=St&sys_lang=Eng